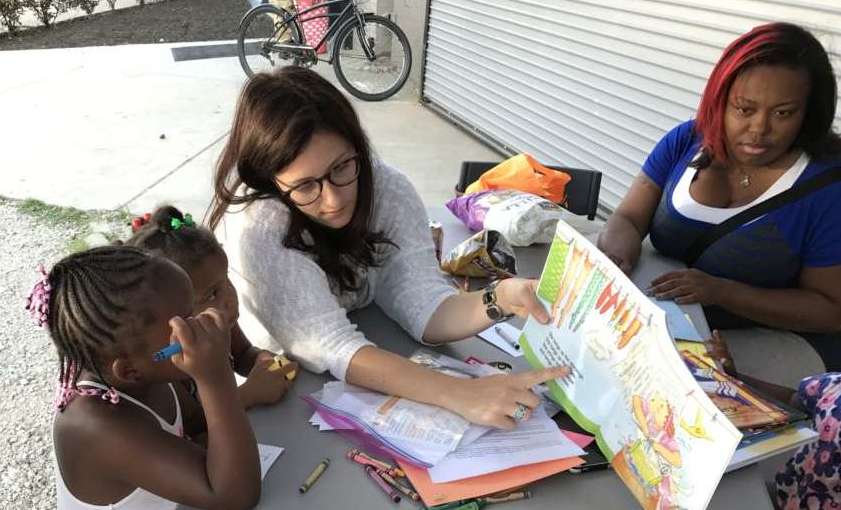 Detroit Residents Come Together for Free Laundry Day
DETROIT – October 31, 2017 – On Wednesday, November 1st, Libraries Without Borders (LWB) and the LaundryCares Foundation will host "Free Laundry Day," during which will residents of westside Detroit can enjoy a number of festivities while doing a load of laundry. In addition to free laundry services, "Free Laundry Day" will feature live music, face painting, free food, arts and crafts activities and a number of giveaways for both adults and children.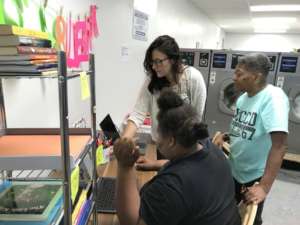 Program Coordinator, Stacy Lorne, helping students with literacy games at Coinless Laundromat
Earlier this year, LWB partnered with the Detroit Public Library, Brilliant Detroit, the United Way for South East Michigan's 'Bib to Backpack' program, Coin Laundromat Association, the Detroit Mayor's Office and the Knight Foundation to launch Wash & Learn, a summer learning program that created pop-up libraries in laundromats. It provides low-income families with opportunities to access literacy and professional development tools at times and places that are convenient and accessible. The idea came to Chang three years ago, when he spent a summer shuffling the Ideas Box, LWB's mobile multimedia center and library, throughout the Bronx. "I tried street corners, parks, and train stations but folks were always running from one place to another or enjoying down time. It wasn't until I stumbled into a laundromat to escape the heat that I realized, 'This would be the perfect place to set up a library!'"
Free Laundry Day marks the culmination of the Wash & Learn program. "The impact a single load of laundry can make on a family isn't lost to us, and it's humbling to see the good it does in a community," said Brian Wallace, President and CEO of the Coin Laundromat Association, which played an integral role in helping LWB bring Wash & Learn to life. Allister Chang, Executive Director of Libraries Without Borders, echoed this sentiment. "Free Laundry Day is an opportunity to celebrate the success of this program and thank local residents, who worked together to make Wash & Learn a mainstay of their community."
The event will take place on Wednesday, November 1st from 3pm to 7pm at Coinless Laundromat, located at 1281 Oakman Boulevard in Detroit.
About Libraries Without Borders
Libraries Without Borders is a 501(c)3 non-profit organizations whose mission is to expand access to informational, educational, and cultural tools for disadvantaged communities. Libraries Without Borders won the Google Impact Challenge in 2015 and the International Literacy Award from the Library of Congress in 2016.
Read additional coverage about the Wash & Learn program in Detroit here.
For press inquires, contact Katherine Trujillo: ktrujillo@librarieswithoutborders.org.