The Exile of an Iranian Family
On the night of April 10 2017, a fire devastated the Lisnière refugee camp of Grande-Synthe, which Doctors Without Borders had opened earlier that year at the request of the local mayor, Damien Carême.  At the time, close to 1400 men, women and children—predominantly Afghan, Iranian and Iraqi—were living in 300 wooden shelters. Among the crowd were Eslam, Soreya, Sara and Sam, members of a Kurdish family from Iran. They were now living in "Shelter 29," which became the title for a series of photographs captured by the photographer Pascal Bachelet and the journalist Ludivine Fasseu.

FROM ILAM TO GRANDE-SYNTHE
For seven months, Fasseu and Bachelet observed the daily lives of Eslam, Soreya, and their two children, Sara and Sam. They met at Butterfly House, a psychosocial support center operated by the French Red Cross, Médecins du Monde and Bibliothèques Sans Frontières (Libraries Without Borders). In this space, we set up an Ideas Box—a mobile library and multimedia center—where refugees could engage in educational or informational activities, play games, and access basic care. This Ideas Box was one of five that BSF set-up along the migratory route in June 2016.  
"The Butterfly House was akin to a family dinner on Sunday, where adults took care of children other than their own. It was a place where refugees could relax and temporarily forget about their current situations. Some came to charge their phones, play cards, drink hot tea in winter, listen to music, or to share their stories with other residents and volunteers. A number of organizations operated activities that sparked a dialogue with refugees, and provided more structure to their days. This program became essential to their sense of stability," explains Ludivine.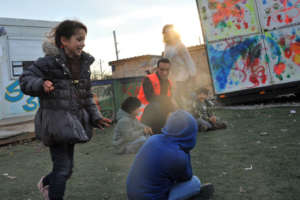 Eslam, Soreya, Sara and Sam had a peaceful life in Ilam, a city near the Kabir Kuh mountain range in Iran. Eslam, the father, worked as an electrician and kung-fu teacher, while Soreya, the mother, was a housewife who took care of their two children. At the time, Sara and Sam were far too young to go to school. But everything changed when Eslam broke a portrait of the supreme leader Ali Khamenei in a fit of anger while at a sporting event. As a result, the family was forced into exile. With the help of a smuggler, they traveled through Europe—across Turkey, Greece, Macedonia, and Germany. After several harrowing months, they finally arrived in La Linière.
At the camp, their life was very different than in Iran. They lived in a 95 square foot cabin, had limited rations of oil and other necessities, and began to share virtually everything—from the kitchen to toilets to showers to the laundry room. Although they made multiple attempts to cross over to England, they were unsuccessful.
One Friday afternoon, BSF staff partnered with members of the French Red Cross to spearhead activities for families at the camp. Among the many children present, Sara immediately stood out with her unforgettable smile. Chloe, a BSF staff member, told us Sara's family had been at the camp for a few months. Upon hearing this, Chloe encouraged Sara to bring her father, Eslam, to the Butterfly House.
The next time Sara visited the Butterfly House, she brought along her mother and father. Although shy at first, they eventually opened up and spoke to Bachelet and Fasseu. As more time passed, the family invited them to the shelter, where they began to tell their story.
Reflecting on this experience, Bachelet and Fasseu emphasize the importance of fostering trust with families, particularly those in vulnerable situations such as this. "We wanted to tell the story of the life of a family, with all of its joy and pain. From the end of school to meals in the shelter. We had to be honest: no staging, just reality. We wanted to be active participants in what we witnessed, and not just witnesses. We took our time to develop trust, loyalty and kinship with all four family members," explains Pascal.
LIVRE, BOOK, KITAB, LIBRO, PIRTÛK
Everyday, dozens upon dozens of humanitarian organizations work with refugees—from providing meals to offering health information and providing psychosocial support. Others plan educational day trips and enrichment activities. Libraries Without Borders provides tools and technology to enhance these existing offerings, as well as hosts innovative cultural activities
"Access to culture must be a priority! Do people not have the same rights because they have fled their country because of war or dictatorship? We saw extraordinary things in La Linière,especially in the Butterfly House. Thanks to the Ideas Box, refugees could share their stories, learn new skills, decompress from the pressures of their daily lives, and continuously access information about topics they cared about. When handed a tablet, a refugee child becomes just like any other child in the world," says Fasseu.
Solène Burtz, a former BSF staff member, recalls the innovative outreach strategies that the team would use to spread the word about the Ideas Box. For instance, the team created a picture book and posters to illustrate what tools and activities took place inside the Ideas Box. This effort started out small, but soon expanded as refugees began to create versions of these instructive manuals in their native tongues: Kurdish, Farsi, French, Arabic, Italian, and English. Beyond the practicality of this effort, it reflected a moment of real, constructive cultural and linguistic exchange. "We were sometimes surprised by the similarities and differences between different words in each language, and laughed at our attempts to repeat the new vocabulary!"
"My favorite part of the Ideas Box is the board games. Maybe because they're appealing to all audiences: children, teenagers, adults, men, women. Or maybe it's because playing dominoes and chess helps you realize just how universal games are. But, most of all, board games have the power to start conversations. Beyond the rules, players and board, they encourage us to share and communicate with one another."