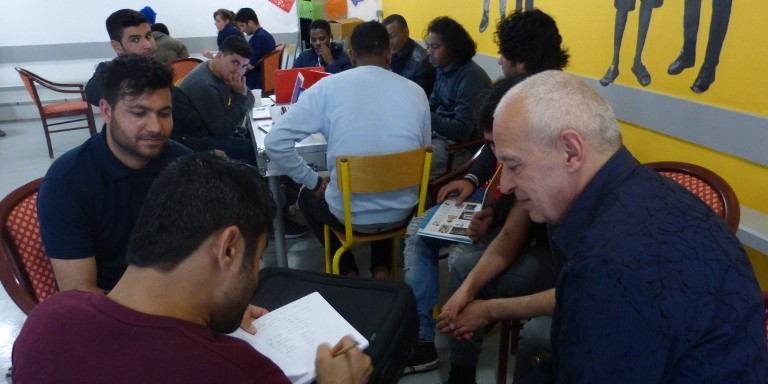 ACTIONS
In 2015, an Ideas Box was welcomed by the Reception and Orientation Center for unaccompanied foreign minors of the French Red-Cross in Paris. This organization hosted children placed in temporary housing by the French justice system. LWB, in partnership with the local libraries, provided books, access to up-to-date technology, educational media, as well as organizing workshops for the youth of the center.
In Paris, LWB brought its support to the 145 migrants housed in an abandoned high school converted, since mid-February, into an emergency shelter. In partnership with Emmaus Solidarity and the City of Paris, an Ideas Box was deployed to form a socio-cultural space in the center, not only to provide a film club to the residents, but also creating an educational and informational sphere for literacy.
This project was supported by the Libraries of the City of Paris and the non-profit organization Emmaus amongst other local organizations.
Since June, 2016, the Grande-Synthe refugee camp in Northern France has welcomed an Ideas Box in their psychosocial center. The French Red-Cross and the Doctors of the World share in the hosting of this space that aims to support the refugees during the course of their migration or accompany them in their process of integration and settling in France.
BENEFICIARIES
Migrants and refugees